Somewhere north of Trout Creek, MI to Hiles, WI - 100 miles
Woke up to a nice morning, got the bike loaded up and had myself a nice cruise into the picnic area at Trout Creek for breakfast (see previous post). After that, I rode down 28, and took shortcut past Bond Falls over to US-45. Little bit of headwind heading down 45, but not bad. I was out touring! Only problem was, I was hungry. Really hungry. Really, really hungry. Even some snacks on top of my morning oatmeal/walnut/apple/maple syrup orgy wasn't doing the trick.
No problem though, I was almost to Watersmeet, MI, and the WI border is like right after that, and then Eagle River is just a short distance past that. I can get some lunch in Eagle River.
I need to look at maps more closely.
After crossing US-2 in Watersmeet, I saw a sign saying that Eagle River was still 28 miles out. Just a teeny bit farther than I thought. OK, a hell of a lot farther than I figured.
But hey, what's that?
Big HONKIN' sandwiches? Sign me up for that! (Fun fact: After being mentioned on the David Letterman show, Nimrod merchandise briefly surpassed Finlandia University 'FU' merchandise as the leading UP export)
Do I want onion rings with my philly cheesesteak? Oh hell yeah. With a side of ranch dressing of course.
Urf. OK. I wasn't hungry anymore.
Time to start pedaling south again.
Crunch.
My, what big potholes they have in Watersmeet.
A couple miles later....
My front tire feels a little weird, I should try and slow down... AND JESUS MOTHER OF GOD I'M GOING TO DIE!!! I THINK MY FRONT WHEEL JUST FELL OFF.
OK, must have been a pinch flat, but when a 35c tire on a loaded touring bike loses most of it's air in a hurry things get a little entertaining in the handling department.
I managed to wrestle it to a stop and set about changing out the tube- thankfully there was a clearly identifiable hole, and no weird tire drama involved. But while I was sitting on the side of US-45 changing a tire, it started to rain. And frankly, a big honkin' sandwich with onion rings was turning out to be not the greatest eating decision ever on my part.
Start pedaling again. US-45 between US-2 and Eagle River is busy. And under construction, with a narrow unmarked shoulder. With the headwind, it really started to suck. Thank god the people of WI saw fit to build a really gigantic welcome sign. Hitting that milestone was a big turn around point in the day for me. If that sign was just a few miles down the road or any less extravagant, I might have bailed on this trip. I still had time to bike back home, get in my car and drive down.
A couple miles after that and I was finally on the ACA route. And all of a sudden, the riding went from hellish traffic on 45 in the rain to a downright pleasent cruise through the woods. Rain didn't bother me at all. This was no longer a chore, it was fun.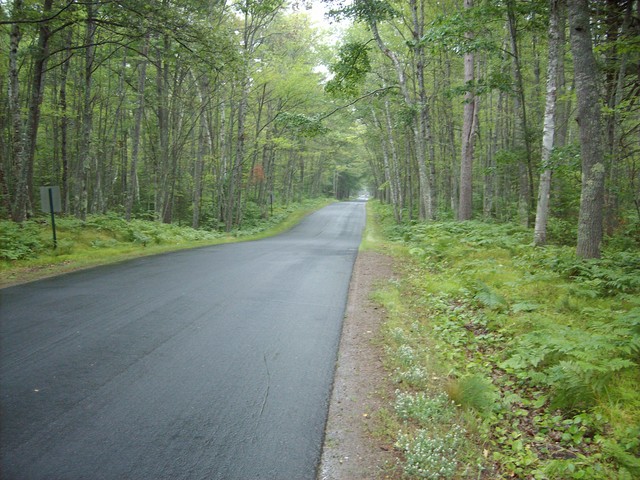 I really only had to make Eagle River that day, but the roads were so nice and the rain stopped, I just kept going- an additional 36 miles to Hiles, WI.
One of those "Only in Wisconsin" things, I guess.
I did miss a turn that added about 6 extra miles that day, but I came across this, so it didn't really bother me.
And yes, I peed on both sides of the sign.
Finally found the right turn onto Military Rd, and came across this sign. Especially ammusing as it's pretty much the route I was following.
Had a nice ride down Military Rd, but by the time I hit Highway 32, I was pretty much done for. Found a really nice private campground just outside of Hiles. Although just after setting up my tent, I looked up and saw this huge hornet nest maybe 50 yards from my site.
They didn't bother me though and I had another great night of sleep.